. 

•

Ford F-550 7.3L Diesel Crew Cab w/47 Gallon Fuel tank
•

Self Leveling Granning Independent Air Ride Suspension
•

200 AMP Crystal Sync Diesel Generator 3 Phase / 70 AMPS Per Leg Max, Camlock Outputs, 4 Double Edisons 20A. Will run 4-5 hours under load. 
•

Interior Video Village with Two 17" LCD Panasonic Monitors
•

Three 7" LCD Monitors for Driver to View Bed
•

2000 WATT Inverter in Cab to Power Laptops and Other Devices Requiring AC Power
•

Custom Crane Mount with Mitchell or Euro Heads
•

Huge Crane Operating Area with Fold Out Side Wings on Bed for Long Arm Tail Sections
•

High Deck or Low Deck Rear Platform
•

Two Camera Bridge Plates with Mitchell Leveling Heads
•

Side Tow Bar
•

Fold-Up Front Platform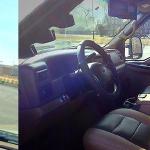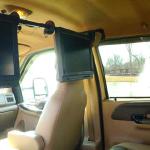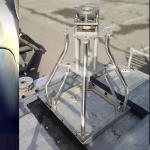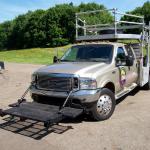 Double click here to add text.

2017 Ram 3500 with air ride on rear axle.

Off set tow left or right

12k generator 220v and 110v

Cam locks and courtesy plugs

110v courtesy plugs in cab.

Adjustable desktop for audio with porthole from rear of truck to inside of cab for cables.

Two 17" monitors with lift cables ran to back of truck.

Padded rear seat with backrest and safety harness attachments

Plenty of speed rail and fittings